The Irriman life project in collaboration with the Polytechnic University of Madrid (UPM) They organized last day 16 February the day 'New tools for management and planning of water resources' that developed in the School of Agricultural Engineering, Food and UPM Biosistemas.
On the day, the project coordinator, Alejandro Pérez-Pastor, He presented the results you are getting the Irriman project that promotes a smart irrigation system can save up to 30 percent power and up 30 percent water and it does not affect the quality standards that require foreign markets for crops. The ultimate goal is that this system, which you are developing an algorithm, it can be applied to large-scale agricultural crops in areas of water deficit.
The project will Irriman reference for the Mediterranean area irrigators who share the need to produce more with less water, in an environment with less resources per capita, and will reduce the costs of energy-intensive irrigation systems modernized.
On the day other projects were also presented Life , specific:
– LIFE STO3RE – Synergic TPAD and O3 process in WWTPs for Resoruce Efficient waste management.
– LIFE IRRILIFE – Environmentally efficient use of pesticides by localized irrigation systems.
– LIFE REWIND – Profitable small scale renewable energy systems in agrifood industry and rural areas: demonstration in the wine sector.
– LIFE REGADIOX – Fixation of atmospheric CO2 and reduction of greenhouse emissions by sustainable management of irrigation agricultura.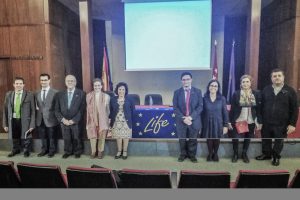 The day concluded with the round table 'Water, Energy and Sustainability in Agriculture. Role of professionals', moderated by Leonor Rodriguez. Professor of Hydraulic, Hydrology and Irrigation of the Polytechnic University of Madrid; and in which participated:
– Carlos Gilarranz. College of Agricultural Engineers Center.
– Paul Butcher. Director of marketing and communication Regaber Automation and control of irrigation water.
– General Council of Associations of Agricultural Engineers.
– Andrés del Campo. President of the National Federation of irrigators communities (FENACORE).
– Juan José Alarcón. Director of the Center for Soil Science and Applied Biology Segura (CEBAS-CSIC).